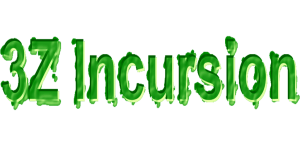 Sometime back in December of 2016 I finished up an HCI project that resulted in a VR game for Google Cardboard.  The purpose of the project was actually to test the effects of dual screen calibration combined with using 3D user interface HCI methodologies on creating a more "realistic" Virtual Reality experience.  The result was the zombie first person shooter game 3Z Incursion seen below (I had to jack up the brightness compared to actual game play for the YouTube video).
The game was created using Unity (see in game credits for all the stuff) and was designed for Google Cardboard VR (or similar).  Simply because I actually had fun creating the game (this was a shock as I'm an old school C++ hand coder, so Unity DID NOT appeal to me at all) and really enjoyed playing the finished game, I decided to release it on Google Play.  The game (obviously) requires some sort of Google Cardboardesque headset and Android phone, as well as an attached mouse (wired or Bluetooth) OR a game controller in mouse mode (highly recommended).

If you are happen to be feeling really frisky, have an interest in how to make Virtual Reality more immersive, or just have an intense love for HCI academia, you can view the full 3Z Incursion presentation below.